Hire a remote developer from Ukraine. What do you need to know to hire a Ukrainian developer?
Why is the Demand for Programmers in the Global IT Market Soaring?
In today's digital world, the demand for programmers and IT professionals is skyrocketing. Companies striving to meet their software and technology needs are extending their search beyond their local confines.
One such promising destination for top-tier IT talent is Ukraine. With an array of skilled programmers and experienced development teams, Ukraine has carved a niche for itself on the global IT map.
What Makes Ukrainian IT Developers Stand Out?
The IT sector in Ukraine is flourishing, backed by a large cohort of highly skilled and experienced professionals. A solid academic foundation coupled with continuous skill upgrades to keep abreast of industry trends and technologies is a notable characteristic of Ukrainian IT experts. As of 2022, the Ukrainian IT specialist market, enriched by the consistent influx of IT graduates from numerous universities and colleges, boasts a substantial 250,000 professionals.
How Do Ukrainian Educational Institutions Contribute to the IT Industry?
Prominent educational establishments such as the National Technical University of Ukraine "Igor Sikorsky Kyiv Polytechnic Institute" and even some of the regional ones like Odesa National Polytechnic University and Kyiv Institute of Economics and Humanities deserve mention for their comprehensive and high-quality IT programs. These institutions impart essential skills and knowledge, molding their graduates into IT experts ready to excel in the industry.
How Versatile is the Expertise of Ukrainian IT Experts?
By hiring Ukrainian programmers, you stand to benefit not only from the cost savings due to lower salaries and taxes but also from the superior code quality they deliver. As a business proprietor or a recruitment manager, you undoubtedly aim to onboard specialists with the right expertise. You must understand the skill set required to meet your objectives, but the real challenge lies in determining whether the local talent can meet those requirements. The process of evaluating candidate skills is critical and any misstep could lead to a significant waste of time and financial resources. To assist you in this task, we recommend our curated lists of developer interview questions and engineering manager interview questions, designed to help you identify the ideal Senior/Lead programmers for your needs.
Now, let's delve into a few crucial facts about the technical prowess of hiring Ukrainian software developers:
They exhibit proficiency in a broad spectrum of coding languages and technologies. According to DOU, the most abundant groups are JavaScript and Java engineers, closely followed by C#, Python, PHP, Typescript, C++, Swift, Ruby, and Kotlin specialists. Here's a brief look at the popularity hierarchy of these programming languages:
JavaScript remains the most popular programming language, extensively used by developers for creating interactive websites and rich web applications. With its widespread acceptance and use, JavaScript forms the bedrock of modern web development in Ukraine.
Java, the evergreen language of the programming world, holds second place. Due to its strong 'write once, run anywhere' principle, it's favored by many Ukrainian developers for creating robust, high-performance applications.
C# takes the third spot, primarily utilized in the development of Windows applications. Ukrainian developers have harnessed the potential of C# to build a multitude of applications, ranging from desktop to mobile and web-based apps.
Python, adored for its simplicity and versatility, comes next. Whether it's web development, data analysis, machine learning, or artificial intelligence, Python is at the forefront, making it a popular choice among Ukrainian developers.
PHP, Typescript, C++, Swift, Ruby, and Kotlin, each with unique features and applications, also have a significant presence. Ukrainian programmers are adept in these languages too, offering a broad spectrum of options for your development needs.
What Makes Ukrainian Developers Stand Out in Terms of Work Ethic and Communication?
Dedicated Ukrainian developers are appreciated for their diligence, attention to detail, and unwavering commitment to delivering high-quality results. Their perseverance shines when tackling complex projects, ensuring outcomes that align with desired standards. In addition to professional competence, their cultural alignment with European norms eases communication and enhances collaboration.
How Much Does it Cost to Hire a Ukrainian IT Expert?
When thinking of outsourcing your IT needs, the cost is often a significant factor. Hiring Ukrainian IT developers is a popular choice for companies around the world not only due to their talent and dedication but also because of the competitive rates they offer. So, how much does it really cost to hire a Ukrainian IT developer?
Ukrainian freelancer specialists' hourly rate largely depends on their experience, skill set, and the complexity of the tasks they'll be tackling. Typically, hourly rates for a Ukrainian Software developer can start from as low as $10 per hour for a junior developer, while middle-level developers might charge between $20 to $30 per hour. Senior developers and experts in high-demand, specialized technologies can command higher rates, often ranging from $30 to $50 per hour.
How Has Remote Work Become More Accessible for Ukrainian Programmers?
Advancements in internet services and communication technologies, coupled with the recent COVID-19-induced shift to remote work, have made remote collaboration easier for programmers. Ukrainian developers have swiftly adapted to these changes, gaining valuable experience working remotely with dedicated teams.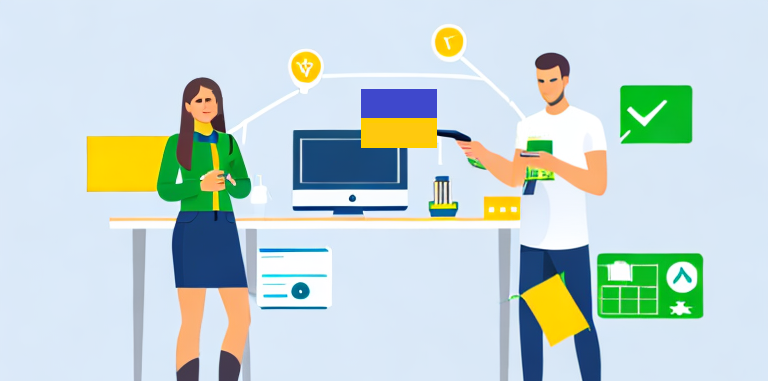 How Does Ukraine's Time Zone Advantage Facilitate International Collaboration?
Situated in the Eastern European Time Zone, Ukrainian developers share a compatible working schedule with many European countries and even some overlapping hours with the United States. This geographical advantage allows smooth project coordination, real-time collaboration, and prompt support for clients across various regions.
What's even more advantageous is that Ukrainian developers also share some overlap with the working hours in the United States. Despite the significant time difference, Ukrainian IT professionals have adapted to sync with both the West and East Coast working hours. This flexibility proves invaluable, particularly for US-based companies that need the convenience of real-time interactions with their remote team members.
Even beyond these regions, Ukrainian developers are known for their adaptability and readiness to adjust their working hours for the benefit of the project or to meet critical deadlines. This flexibility extends to countries in different time zones around the world, be it in Asia, the Middle East, Australia, or South America. Thus, regardless of where your company is located, Ukrainian developers can effectively adapt and ensure that your project progresses smoothly and on schedule.
How Do Ukrainian Developers Benefit from Working with International Clients?
Ukrainian developers have a work culture and mentality that aligns closely with that of their Western counterparts. This synergy can be attributed to Ukraine's geographical location, historical ties, and the influence of Western culture on its educational system and society at large.
Ukrainian developers are renowned for their high professional standards, dedication to the job, and strong work ethic—traits appreciated by both European and US companies. Their flexibility and adaptability enable them to seamlessly integrate into diverse teams, aligning with the project goals and company culture effortlessly.
In essence, Ukrainian IT developers have proven to be reliable partners for companies in European and US markets due to their technical expertise, language proficiency, and cultural compatibility. They have adapted to the Western mentality and work culture, which, coupled with their inherent work ethics and capabilities, makes them an excellent choice for international IT projects.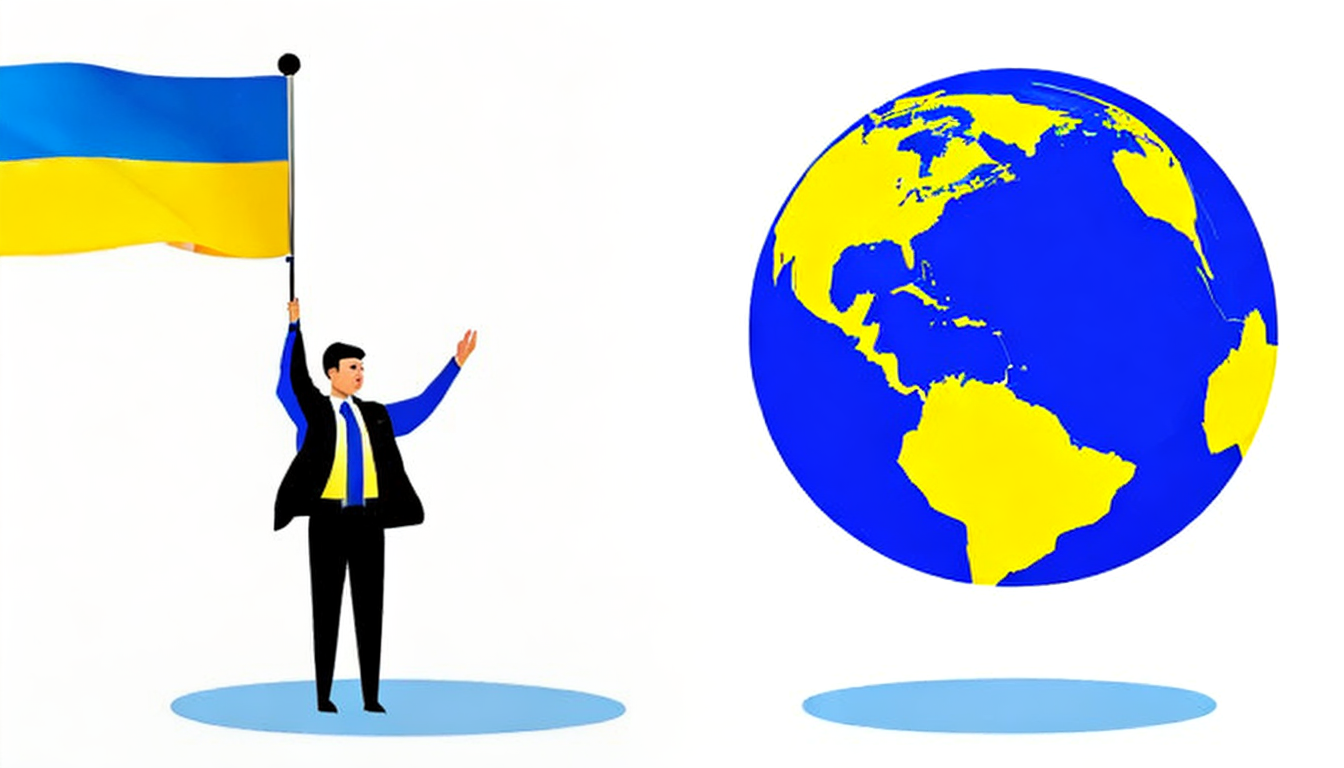 What Role Does English Proficiency Play in Smooth International Collaboration?
With English being widely taught in Ukrainian schools and universities, Ukrainian developers are well-versed in communicating with international clients. Their strong English language skills ensure a clear understanding of project requirements, minimizing potential misunderstandings, and fostering smooth collaboration.
How Does Ukraine's Thriving IT Community Contribute to Continuous Learning and Professional Development?
Ukraine boasts a vibrant IT community, marked by numerous tech events and educational courses, fostering continuous learning, knowledge sharing, and professional development among its developers. The global recognition of many Ukrainian startups perfectly demonstrates the country's potential for innovation and entrepreneurship.
How Does the Ukrainian Government Support the IT Sector?
The Ukrainian government actively promotes the IT sector by fostering startups, attracting foreign investment, and providing resources for educational programs. Modern infrastructure and a favorable business environment further enhance the attractiveness of Ukraine as a hub for IT development.
Today, tapping into the talent pool of Ukrainian developers has become more straightforward than ever, thanks to the well-structured IT community that sprawls across more than 20 IT clusters. The major clusters are located in Ukraine's bustling cities such as Kyiv, Lviv, Kharkiv, Dnipro, Odesa, Zaporizhzhia, and Vinnytsia. More than two-thirds of all local developers reside in Kyiv, Lviv, and Kharkiv, with Kyiv being the top choice for most experienced Senior Ukrainian programmers.
Reliable sources reveal that Ukraine hosts approximately 5,000 IT firms, with 100 of them being Fortune 500 companies. These firms primarily hire Ukrainian software developers through their in-house recruitment teams, staffing agencies, or Business Process Outsourcing (BPO) providers like Alcor. To give an example, our IT research and recruitment team at Alcor utilizes an internal database of over 170,000 candidates, the professional networking platform LinkedIn, local job-seeking resources, and other efficient tools to streamline the hiring process.
How To Hire Ukrainian Software Developers?
In conclusion, hiring dedicated Ukrainian IT developers brings numerous benefits to the table, including technical expertise, cost-effective solutions, work ethic, cultural compatibility, language proficiency, a thriving IT community, strong government support, and a proven track record of successful startups. These factors make Ukrainian developers an excellent choice for any company seeking skilled and dedicated IT professionals.
Discover Talent with Hiretop - Your Ukrainian Tech Resource
We trust that this article has shed light on the standard recruitment costs in Ukraine. Should any queries arise regarding the recruitment landscape in Ukraine, we invite you to download the detailed presentation below. This resource comprises a comprehensive breakdown of all pricing and rates.
Ready to embark on your hiring journey? Reach out to us and let's arrange an introductory call. At Hiretop, we're always at your service, poised to assist and guide you through every step of the way.
Should any questions spark while perusing this article, don't hesitate to connect with us at hello@hiretop.com. Your curiosity fuels our commitment to serve you better, and we look forward to helping you!