Your Guide to Web Developer Salaries
This is part one of a series of articles dedicated to software developer salaries. We will also review the salaries of software developers by technology and application developer salaries in our upcoming posts.

If you're building a team of developers to get your web application off the ground, you may be wondering what is web developer's salary on average. In this post, we review the salaries of web developers, including front-end, back-end experts, and full-stack as well as database specialists if you need any. All of these roles are necessary for building a web application, so let's take an in-depth review of what they are worth.

What defines an average web developer's salary?

Software development (and web development in particular) is in its heyday. The industry keeps attracting more and more young IT professionals each year. When building your web dev team, you should take into account that web development salary has a strong potential to increase in years to come, even though there's no shortage of web development talent these days.

A candidate's portfolio also plays a great role in defining a web developer's salary. Ideally, it should include the following:

Higher education in Computer Science;
Years of commercial experience with languages and frameworks used for web development;
Website scaling experience;
Working with APIs and third-party integrations;
Project management experience;
Strong communication skills.

Another aspect that influences a web developer's salary is their knowledge of versatile technologies. Web development experts tend to keep their skills sharp by learning trending frameworks and programming languages. Thus, the senior web developer's salary and the web developer's salary at the entry-level position may differ by a significant margin. Not only do senior web developers have more years of commercial experience but also tend to excel at multiple web development frameworks. Here're some CVs of full-stack devs we can match you with.
Another factor that affects a web developer's salary is the type of professional you want to add to your team. The field of web development entails a wide range of professionals who possess a variety of skill sets, including such competencies as front-end, back-end, full stack, and database. The salaries of these professionals may vary, so the proper way to analyze them is to look at each field individually.

You may also like: Hiring a Node.js Developer: A Complete Guide to Rates, CVs, and Lifehacks

So, how much do web developers make?

For starters, let's review generic web developers' salaries. To that end, we dived into several reputable data sources. Please note that the salaries we cite in this post (from job search platforms such as Glassdoor, Indeed, Payscale, and Ziprecruiter) have been submitted by users of respective services and may not include supplementary fees associated with hiring a web developer.  

According to the US Bureau of Labor Statistics, in 2021, a web developer's salary on average was $78,300 per year.

Glassdoor shows that a web Developer earns roughly $82,000 per year in the United States. A web developer's salary on average is up to $77,000 per year.

At the same time, the starting web developer's salary can be $44,000 annually, whereas a senior web developer's salary can be as high as $155,000.

So, if you plan to hire a web developer in the USA, you can have an understanding of their cost.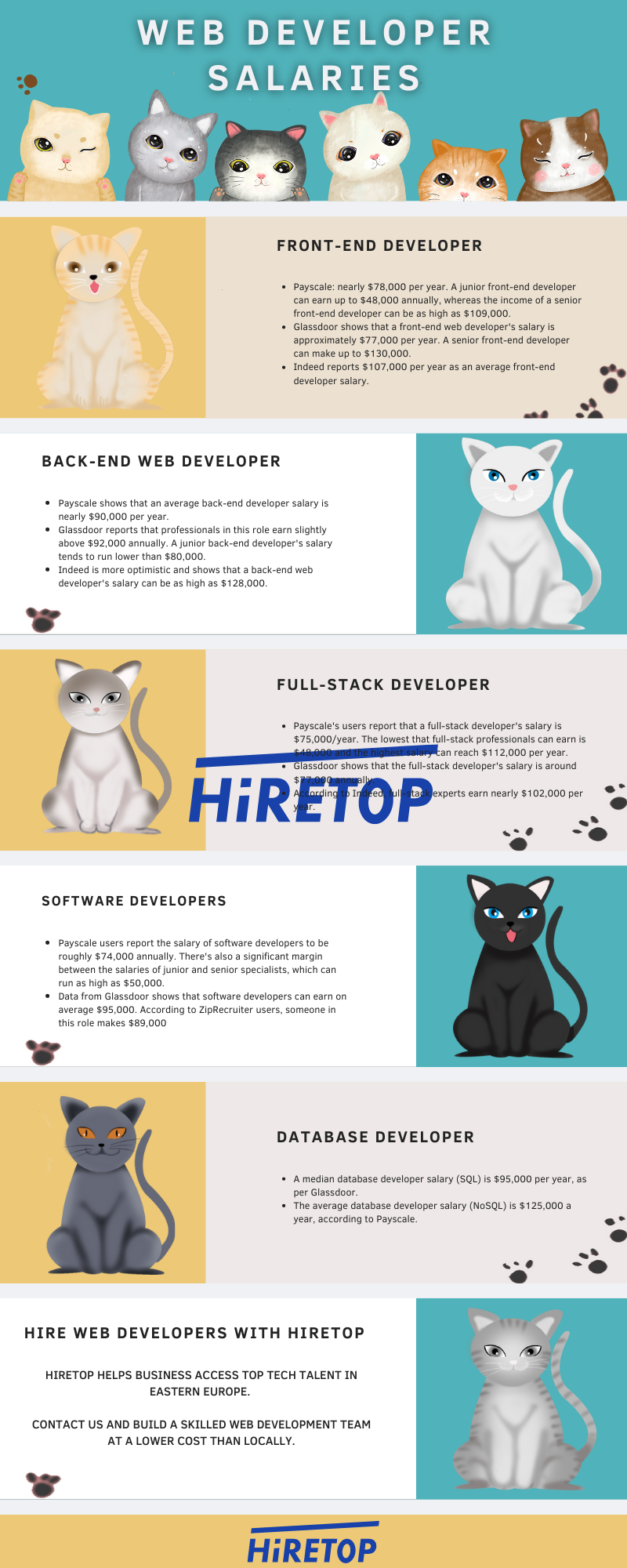 Full-stack vs. front-end vs. back-end web developer salary

The salaries of web development experts depend on their niche as well. If we compare front-end vs. back-end web developer salary, it would be clear that front-end web developer salary is slightly lower. At the same time, a full-stack developer salary tends to be the highest, at least for seasoned specialists. According to various salary platforms, full-stack vs. front-end vs. back-end web developer salary are reported as follows:

You may also like: What is a Full-Stack Developer? Find out Here!
A median front-end web developer salary:

Payscale: nearly $78,000 per year. A junior front-end developer can earn up to $48,000 annually, whereas the income of a senior front-end developer can be as high as $109,000.
Glassdoor shows that a front-end web developer's salary is approximately $77,000 per year. A senior front-end developer can make up to $130,000.
Indeed reports $107,000 per year as an average front-end developer salary.

Summing up, it makes sense to expect you will pay a salary of $75,000 per year for an experienced front-end developer.
A median back-end web developer salary:

Payscale shows that an average back-end developer salary is nearly $90,000 per year.
Glassdoor reports that professionals in this role earn slightly above $92,000 annually. A junior back-end developer's salary tends to run lower than $80,000.
Indeed is more optimistic and shows that a back-end web developer's salary can be as high as $128,000.

Thus, on average, hiring a back-end developer will cost you around $90,000/year for an experienced specialist.

A median full-stack developer salary:

Finally, the category of web developers whose salaries are prone to variation, as they are largely based on the set of skills of each specialist.  

Payscale's users report that a full-stack developer's salary is $75,000/year. The lowest that full-stack professionals can earn is $48,000 and the highest salary can reach $112,000 per year.
Glassdoor shows that the full-stack developer's salary is around $77,000 annually.
According to Indeed, full-stack experts earn nearly $102,000 per year.
ZipRecruiter reports that the starting salary of a full-stack developer is $37,000 per year, whereas their senior counterparts can expect a paycheck of over $150,000.

Summing up, if you hire a full-stack developer, you can count on $95,000 as an average yearly salary.

Overall, hiring a full-stack developer will let you cover the skill of front-end and back-end development, as these professionals are well-versed in all technologies required in a web project.

A database developer's salary

Another crucial role for your project can be a database developer. What is a database developer? A professional in this role creates and maintains the databases for an organization. Database developers work with a variety of programming languages to create and maintain databases. For your project, you may need to hire SQL database specialists or NoSQL professionals, split according to the core types of databases.

A median database developer salary (SQL) is $95,000 per year, as per Glassdoor.
The average database developer salary (NoSQL) is $125,000 a year, according to Payscale.

A software developer vs. A web developer salary

You may wonder about the difference in the salaries of web developers and software engineers. Software developers tend to have more profound expertise in software and its inner workings, so they tend to have higher paychecks. As we mentioned, according to the US Bureau of Labor Statistics, a web developer's salary on average is $78,300 per year. If we compare it with the income of software developers, we'll see that they make much more – $109,020 per year according to the same source.

Payscale users report the salary of software developers to be roughly $74,000 annually. There's also a significant margin between the salaries of junior and senior specialists, which can run as high as $50,000.

Data from Glassdoor shows that software developers can earn on average $95,000. According to ZipRecruiter users, someone in this role makes $89,000

So, chances are, you will pay up to $100,000 for an experienced software developer to join your team.

Hire web developers with HireTop

Finding a web developer that fits the bill can be problematic. Sometimes businesses develop their apps on a tiny budget but need to hire web developers with solid experience. We collected the data to show you how much you need to shell out for a professional based in the USA. However, if you expand the radius of your search and include remote opportunities, chances are you will hire a web developer with lower rates but the needed skill set. This is where HireTop can help you with. With us, you will tap into the Eastern European pool of tech talent (Poland, Ukraine, Romania, the Baltics) and access affordable tech talent. For instance, we can help you find and hire dedicated web developers in Ukraine at the cost of $25,000 per year, excluding service fees.  
Please review our rate card for more information on our rates for dedicated senior, junior and mid-level developers. Feel free to contact us.